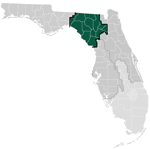 The Suwannee River Water Management District is a Cooperating Technical Partner (CTP) working to implement the Federal Emergency Management Agency's (FEMA) Risk MAP Plan.
The goal of FEMA's Risk MAP Plan is to upgrade the flood map inventory panels by:
a)
Developing up-to-date flood hazard data for all flood prone areas to support sound floodplain management and prudent flood insurance decisions;
b)
Providing the maps and data in digital format to improve the efficiency and precision with which mapping program customers can use this information;
c)
Fully integrating FEMA's community and state Partners into the mapping process to build on local knowledge and efforts;
d)
Improving processes to make it faster to create and update the maps; and
e)
Improving customer service to speed processing of flood map orders and raise public awareness of flood hazards.
What Is Risk MAP?
Not only is flooding one of the most common and costly disasters, flood risk can also change over time because of new building and development, weather patterns and other factors. FEMA is working with federal, state, tribal and local partners across the nation to identify flood risk and help reduce that risk through the Risk Mapping, Assessment and Planning (Risk MAP) program.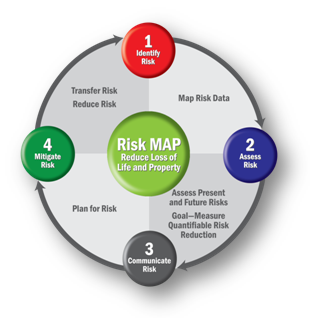 Risk MAP provides high quality flood maps and information, tools to better assess the risk from flooding and planning and outreach support to communities to help them take action to reduce (or mitigate) flood risk. Each Risk MAP flood risk project is tailored to the needs of each community and may involve different products and services. Learn more about the goals and long term vision of Risk MAP.